FILM CATERING
We built a brand new catering truck in 2007. Our truck features a fully equipped commercial kitchen, with enough cooking power and refrigeration to serve up to 500 people. We take pride in the presentation of our unit, as our intention is to create a dynamic environment that enhances the dining experience of our customers.
WEDDING CATERING
Planning an outdoor wedding can be accomplished without the worry of having access to a commercial kitchen. Tangerine Catering can provide food services to remote sites. Serve your guests food as stunning as your dream wedding location.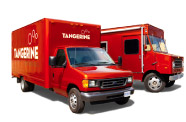 PRIVATE CHEF SERVICES
Having the perfect dinner party requires excellent food. Hire us to plan and cook for your event in your own home. Be the ultimate host.